An inclusive, international online festival for the 33rd Day of the Omer
May 12, 2020 @ 18:00

-

23:30

UTC+0
An inclusive, international online festival for the 33rd Day of the Omer, featuring artists of all genders in Israel, Europe, North and South America.
Song, dance, theater, poetry, rabbinic teachings, haircuts, cooking demonstrations and much more!
All audience donations will go directly to the artists. Donations accepted via Paypal (
cantor.sarah.myerson@gmail.com
) and Venmo (@Sarah-Myerson). Thank you for your support!
Contact us:
fb.me/LagBaOmerCelebration
Tag us in your posts:
#lagbaomer4all
Artists include:
Zulema Benveniste (Argentina)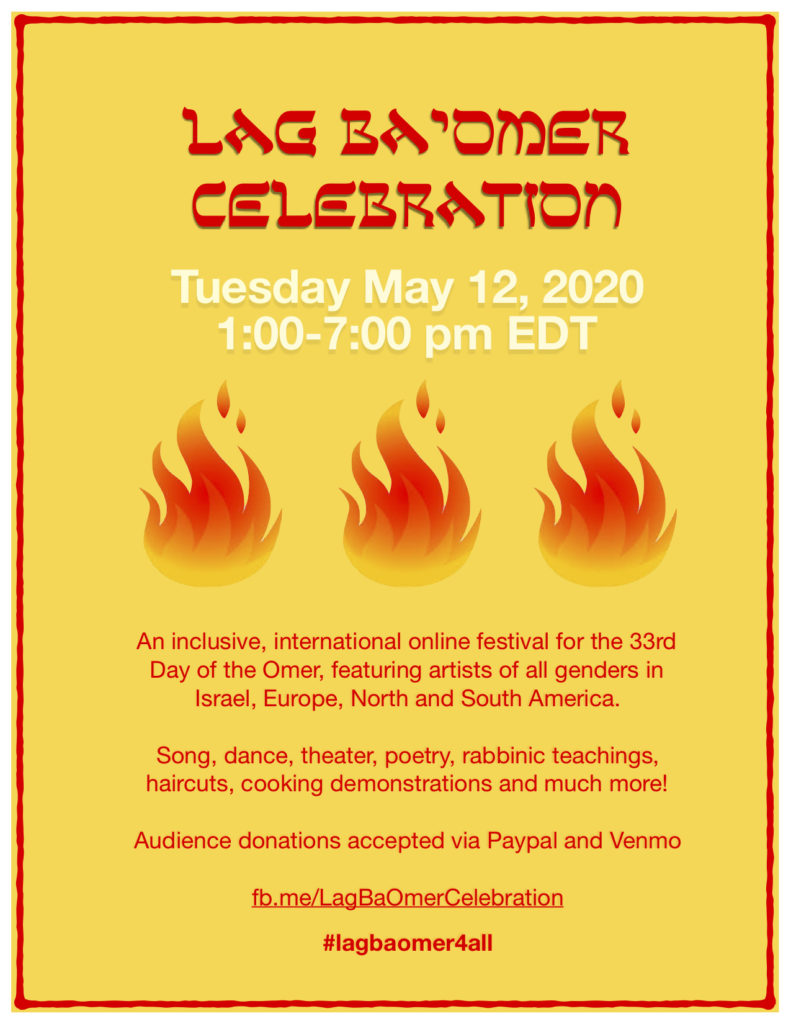 Eléonore Biezunski (USA)
Polina Shepherd (UK)
Nicole Borger (Brazil)
Joanne H Borts (USA)
Alejandra Czarny (Argentina/USA)
Cantor Magda Fishman (USA)
Tânia Grinberg (Brazil)
Omer Hallel (Israel)
Sima Halpern (Brazil)
Lea Kalisch and Rabbi Tobias Moss (USA)
Susan Abbe Hoffman Lankin-watts (USA)
Jeyn Levison and Josh Waletzky (USA)
Rabbi Bronwen Mullin (USA)
Cantor Sarah Myerson and Ilya Shneyveys (USA)
Alevtina Parland (Finland)
Rabbi Shira Rosenblum (USA)
Rabbi Raysh Weiss (USA)
Amy Zakar and Adrian Banner (USA)
If audience members can say now that they're "attending" the event, then it will be easier for them to access the livestream once it's there.
Polina's set is at 2:20pm – 2.40pm New York time, 7.20 – 7.40 pm UK time.
Koyekh Nigun by Polina Shepherd
Ovnt gang Lyrics by David Einhorn, music by Polina Shepherd
Zingt tsu im – Shiru lo (Sing unto Him a new song) Lyrics from Psalm 33:-3, music by Polina Shepherd
Strela Russian folk song
Fire down below Lyrics by Seth Rogovoy, music by Polina Shepherd
Gemiter Lyrics by Leyb Kvitko, music by Polina Shepherd
Dint Got mit Simkhe (Serve the Lord with gladness, come before his presence with singing) Lyrics from Psalm 100:2, music by Polina Shepherd
SEE OR DOWNLOAD THE FULL PROGRAMME AND PRESENTER'S BIOGS HERE: Lag BaOmer Celebration
An inclusive, international online festival for the 33rd Day of the Omer