Polina performs Jewish and Russian

solo

programmes as well as concerts with her

choirs

and collaborations with various bands and musicians. Here are Polina's current collaborative performance projects:
Merlin and Polina Shepherd Duo
Original compositions drawing cultural and musical influences from Tatarstan, Turkey, Russia and the Pale of Settlement… "I like to think of the duo as the Robert Plant and Jimmy Page of klezmer, with Polina Shepherd channeling the sound of Kashmir (the place and the song) through her evocative vocals like Plant and Merlin standing with one foot in tradition, like Page and the blues, and another foot in the avant-garde, like Page as Page, reinventing the sound and possibilities of what the instrument can do. Polina and Merlin Shepherd – the Led Zeppelin of contemporary Yiddish music." (Seth Rogovoy, The Essential Klezmer).
Sklamberg & the Shepherds trio – Russia – USA – UK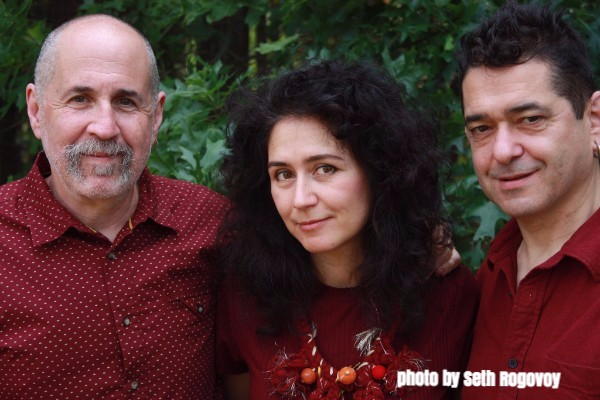 This fresh collaboration blends traditional and newly composed Yiddish and Russian song with klezmer and southern Mediterranean music. It brings together three renowned performers of traditional Eastern European Jewish music: Lorin Sklamberg, cofounder and lead singer of the Klezmatics; clarinetist/composer Merlin Shepherd, a uniquely innovative force in the klezmer renaissance; and Polina Shepherd, a virtuosic vocalist/pianist/composer originally from Siberia.
Original and traditional compositions in Russian and Yiddish, klezmer, turkish, Featuring Rohan Kriwaczek on The Saddest Bagpises in the World, Merlin Shepherd on clarinet, saxophone and Polina Shepherd on keyboards and vocals. Kriwaczek & the Shepherds recorded an album of Polina's songs in May 2014, Three Centuries Ago: 10 songs in Russian and Yiddish and a traditional prayer Avinu Malkenu as a bonus track.