Dina Malkova's colourful exclusive clothes inspired by the traditions of places along the old Silk Road create a beautiful – and just the right one! – frame for Polina's music.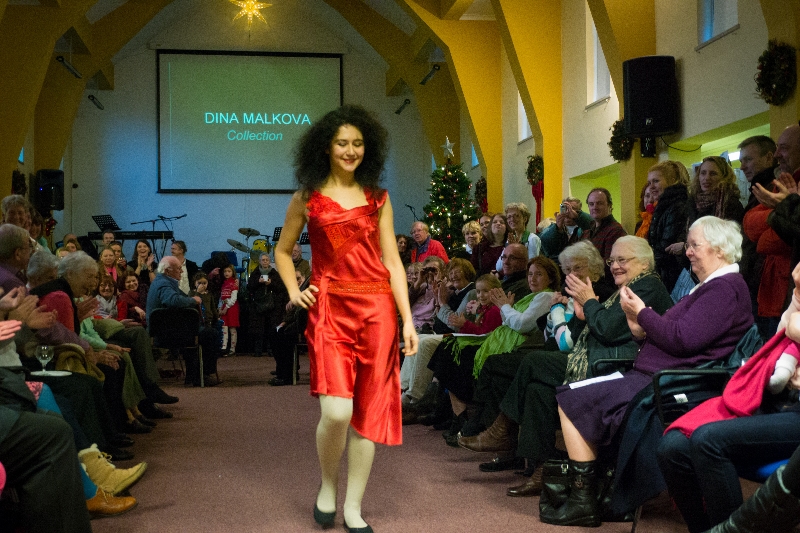 Their collaboration is a project destined to have happened. Both with incredible creativity and strive for beauty, they also share a whole cultural world of their own. One coming from Uzbekistan and the other from Tatarstan in Central Russia, they've inherited the USSR's professional and personal values: this makes their work
honest, skillful, heartful and multi-ethnical.
Polina's ornamented singing is a musical expression of the same aestetics as one finds fine ornaments on Dina's designs. Their energy, passion for colour and emotion is rooted in fed from the same place.
Dina Malkova's eye in Tashkent absorbed the Bazaars blasting with traditional Uzbeki fabrics, smells, voices, enegry. Polina's childhood ear was deepened into Moesins' singing from the high Mosques of Kazan and traditional full-bodied Russian harmony singing, shouting, drinking, loving, living… We call this Russian Intelligencia of the 1990-s, the after-Perestroika generation, shifting the limitations of the Soviets and opening the hirisons of creativity through creative work.
Dina and Polina met in Brighton in 2007 and immediately found that their aesthetical values were just the same! Polina performed in a dress designed by Dina for the Brighton Fringe Festival in Spiegeltent, 2010. The unique dress made from traditional hand embroided village fabric seemed perfect for Polina's Eastern singing style and the bright sound of the accompanying brass band Fanfara.
Since then, Dina has created a series of performance clothes for Polina including a dress which helped Polina (as she believes) to win the I Prize in the V International Russian Song Contest at the Royal College of Music, 2012.
In 2012, Dina is creating several performance dresses enhansing Middle Asian style with wild and modern elements, mixing freely-flowing skirts, embroided corsets and embelished sleaves with transparent evening style back and sleeves … just in line with Polina's musical mix or Russian, Tatar and Jewish repertoire in her upcoming performances in Brazil, Switzerland, Iceland, Germany and Austria this Autumn.
Please visit Dina Malkova's web site for more…