Yiddish New York Film Festival – Five Brides, online
December 25, 2021

-

December 30, 2021
The Sound & Light Cinematic Duo accompany a Black & White Silent film as part of Yiddish New York 2021.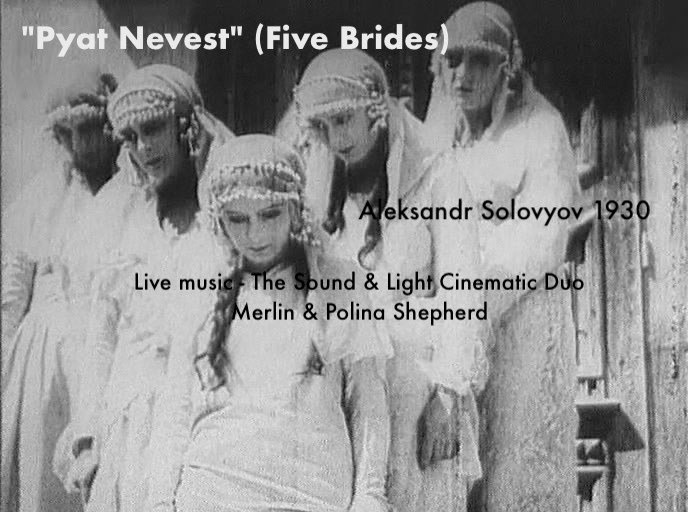 FIVE BRIDES [ПЯТЬ НЕВЕСТ / Pyat' Nevest] (1929, 60 minutes — silent film)
Directed by Aleksandr Solovyov, screenplay by Dovid Maryan.
Live musical score composed and played by Merlin Shepherd and Polina Shepherd.
To book, please go to the YNY tickets link and scroll down to the Film only pass, otherwise join other evens – the festival has lots to offer.
Note– attendees whose registration allows access to this class (with a Full-Festival Pass, any Sun-Wed Day Pass, PM1 Course Pass, or any PM1 Single Session Pass) will be able to watch ALL of this year's films – a moviephile mekhaya!
This is a rare piece of Soviet agit-prop from 1929, made by Ukrainian film director and former Red Army soldier, Aleksandr Solovyov. Cinematography by Albert Kyun brings us almost-dizzying camera tilting, close-up, panning shots, camera rolling etc. The minimalist yet meaningful screenplay is by Dovid Maryan.
A peaceful Jewish village in Ukraine is under threat from the Petliurian Army. Symon Petliura's soldiers fought against the Red Army and the Bolsheviks. They demanded Ukrainian independence. Part of their plan was to carry out pogroms against anyone who wasn't Ukrainian enough. A commander kills an old woman in the village square and a small group try to retaliate but get nowhere. The evil commander then threatens a pogrom and to burn the entire village. Unless the villagers agree to give five virgin girls (five brides), for the pleasure of five Officers.The Jewish council decides they have no choice but to comply… Enter a detachment of partisans of the Red
Army!
Although the last reel is missing, the film narrative retains all its power and emotion. And we're left with a superb cliff-hanger.
Talkback session – Monday, December 27 PM1 – with award-winning scholar/author of Russian Soviet history Elissa Bemporad and musician Polina Shepherd, moderated by Josh Waletzky.
Yiddish New York Film Festival – Five Brides, online