Here you will see Sing with Me information from our 2022 sessions, starting with 126.
Sing with Me run from 20 March 2020 until 3 June 2021 regularly, from every day to twice a week, with online concerts with international musicians every fifth day, with up to 90 people turning up (one we even had a whole choir from Greece!) in the first months of the pandemic. By the end of the long 2020 - 2021 stretch we became a lovely group of people from USA, Brazil, Iceland, Canada, France, Germany, the United Arab Emirates and other corners of the world. We sung folk songs (lyrical, drinking, dance, celebratory songs...), Art songs (The Russian Romance and Yiddish art songs) plus a bit of classics like Shostakovich and Rachmaninoff.
Past Sing with Me sessions 2021, 90 - 125, can be viewed here
Here is a page with our 2020 sessions, 1 - 90.
28 February. SWM 133 - Yiddish songs and a Ukrainian song in Yiddish and Russian
This SWM was be a sing-along, with songs you already know. Please join us in "The Future", A Catalan Freedom song "The Yoke" in Yiddish, "Who will last? And what will last?" - lyrics by A. Sutskever, music by Zh. Lopatnik, a
#Ukrainian
folk song "There in the Woods" in Yiddish, translated by E. Chorny with his dedication to Band Shtrudl ex-Varnitshkes from Lemberg and an originally Chassidic song adapted by Adrienne Cooper and modified by A. Mlotek "Vayl ikh hob Koyekh" / 'Because I have Power" in
Yiddish
and
Russian
.
Song sheets: Der yokh , Di tsukunft , Dort in Veldl , Ver vet blaybn , Volt ikh - Yesli by 2 languages
21 February. Sing with Me 132. Russian songs
Not just one but two songs will be in focus in this session. Like in the Yiddish sessions, we will first sing a wordless melody - this time a Russian one. "Vocalise" is a song by Sergei Rachmaninoff, composed and published in 1915 as the last of his 14 Songs or 14 Romances, Op. 34. Written for high voice (soprano or tenor) with piano accompaniment, it has no words. It's a beautiful composition. We will just sing the very beginning of the song but please listen to the whole piece here sung by Renée Fleming:
We dedicated Sing with Me 86 (19.11.2020!) to Olga Vasilievna Kovaleva (1881 - 1962) and today we'll sing one more of her songs. She was born in the village of Lyubovka, Atkarsky district, Saratov province. Her repertoire included over two hundred folk songs, some recorded in Lyubovka, some from books, some "revised" folklore and some of her own.
Hear another singer, Tatyana Blagosklonova with a version from 1960:
Here is Olga Kovaleva herself:
Song sheets: Rachmaninoff_Vocalise_in_G beginning, Oy tsviti kudr'avaya r'abina
Sing with Me 131 - Yiddish Song - 14 February
Today we sing a lovely little children's song about spring, Di Grezelekh Blien! Hurray to positivity. We will also revive a nign from a year ago, SWM 99 (15 February 2021), Nigun Shamil, which "reflects the Chassidic concept of the soul's descent into our physical world in order to purify the soul and bring the divine light into the day to day life."
Sheet music for today:Di grezelekh blien, nigun Shamil Chabad 302-600
7 February Sing with Me 130 - Yiddish Song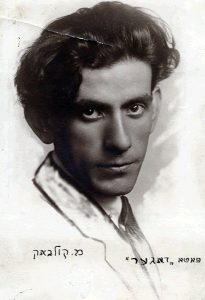 Moyshe Kulbak (1896, Smargon - 1937, Minsk) is one of my absolute favourite Yiddish poets. In 20 years of writing poetry first in Hebrew, then in Yiddish, he became one of the most expressive Yiddish voices ever. His very first published poem, Shterndl, (Little Star, 1916) immediately became a folk song. From his idyllic and lyrical early poems to later elements of Jewish mysticism, folklore motifs and grotesque expressionism, Kulbak's poems are full of music. He was also a charismatic teacher. According to one of his students, looking at a model skeleton left for anatomy classes, he exclaimed: "What is a human? A bunch of fragile bones. And yet, a human dreams, sings, creates... Yes, they are mortal, but there are the sounds of music and there is wonder at knowledge, and eternal questions: who are you and what are you?.."
Today's song has depth, pain and poignancy and exposes the dualistic nature of Kulbak's journey through life. Song sheet for this session: Tsvey
Sing with Me 129 - 24 January - Yiddish song.
I will teach this session from Naberezhnye Chelny, Russia, 1000 km East of Moscow, apologies for the video as I used my laptop webcam. Also I will use my parent's piano. Today we sing a stunning Yiddish lullaby with a bit of Ukrainian Jewish history told through this song. I never heard it sung and I have never come across this tune. My father will give us a little interview sharing stories about Petlura and Ukrainian pogroms that his mother told him. This is to give some context to the lullaby we will be singing. Let's explore. Sheet music for today: Oyf-tsu-shtifn-hostu-dokh
Sing With Me 128 - Monday 17 January. Yiddish song
I found a children's song that says "We have lived nearly a year with a broken roof", singing about the rain coming through the ceiling and the family dealing - but mostly not dealing with it. To me it's an allegory of our world, but the roof has been broken for much longer.
The authour of the lyrics is a Hebrew and Yiddish folk poet, children's writer and folklorist Zalmen Rozental (1892 - 1959) from Telenesht, Bessarabia. He researched folklore, collected some 300 Yiddish folksongs and wrote his own. Some of them now exist as anonymous folksongs, like Bay dem Shtetl Shteyt a Shtibl, which a lot of us know, or today's song.
The composer is Leib Glantz (1898 - 1964), a Ukrainian-born cantor, composer, musicologist, writer, educator and zionist leader. Emigrated to the West in 1926 and recorded cantorial repertoire (beautifully!). Interestingly, he created a serious debate in the Convention of the Cantors Assembly in 1952, where he presented his new analysis of the ancient Jewish prayer modes. Glantz theorised that many centuries ago the Jewish people transformed certain Greek scales and modes in the process creating original Jewish combinations.
Now, back to our song: watch a famous Yiddish song composer Leibu Levin talk about and sing a version of our song here (in Yiddish). He didn't know the authors!
Song sheet: S'iz tsebrokhn undzer dekhl
10 January, Yiddish song, session 127.
Today we sing about love again. Hayim Nahman Bialik (1873 – 1934) is mostly known as a pioneer of modern Hebrew poetry. He was born in Ukraine, lived in LithHis poem Yesh Li Gan (I Have A Garden) has become a popular Israeli song: hear this sung by Ofra Haza, also this version with an old Egyptian melody. The Yiddish translation of this poem has been set to music a few times too. With this folk tune and in Yiddish, this is a completely different song. Song sheet for today: In mayn gortn
Listen to this a cappella version by Yana Ovrutskaya (Kazan, 2001):
3 January - Sing with Me 126. Yiddish song

Today's song is quite a symbol for Sing with Me. We finished SWM sessions on 3 December 2020 (!) SWM 90 with a Russian song with almost the same melody (watch session video here). I used to play it lots in my youth accompanying parties and celebrations and had no idea that the song was old. Its history goes back to the beginning of the 1900s. One of the earliest publications of the Russian version of it appears in a song book in 1909 marked as a Russian folk song. The tune is also known from the signature song in Sholom Secunda's. His 1927 musical production billed back in 1927 as a "Groyse Yiddish operetta" had a song with a completely different text in Yiddish. Secunda was born in 1894 in Aleksandria, Kherson Governorate part of the Russian Empire and was 13 when the family emigrated to the USA.
The authour of this melody is therefore remains unknown. We are going to sing it with yet another Yiddish text - singing about travelling, playing and singing. Song sheet for today: Mir geyen un vandern - Score
Listen to Mara Rozenthal singing one of the Russian versions of this tune, "Bells of Moscow: Tango" in 1942:
Here is the known Yiddish song sung by Simon Spiro ...
Here is our version, unknown with a completely different text: