Five Brides – Sound & Light Cinematic Duo B&W film with live music
June 7, 2020 @ 19:00

-

20:00

UTC+1

donations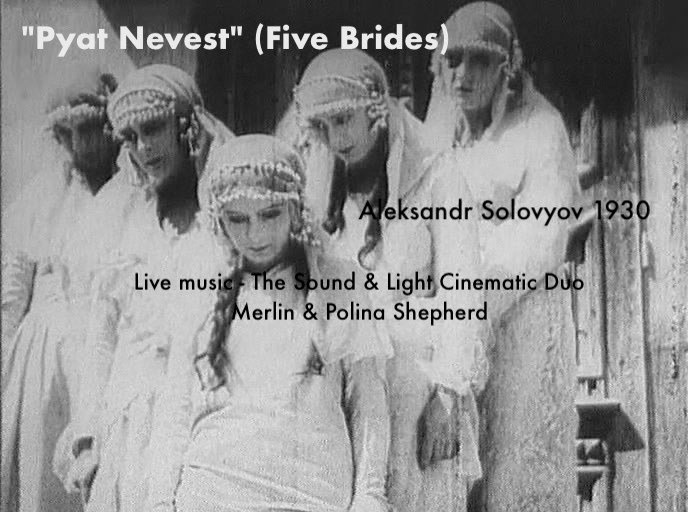 "Pyat Nevest" (Five Brides) – Aleksandr Solovyov 1930Come and enjoy our first outing with this beautiful piece of Ukrainian Cinema.
2pm New York/ 7 pm UK time / 8pm most of Europe
Join Merlin & Polina Shepherd (The Sound & Light Cinematic Duo) in the presentation of an amazing piece of Soviet agit-prop from 1930. This extraordinary piece of cinematic story telling was made by Ukrainian Film Director and former Red Army soldier, Aleksandr Solovyov. He brings astonishing narrative, action and direction. Cinematography by Albert Kyun brings us amazing camera tilting, close-up, panning shots, camera rolling etc etc. The minimalist yet meaningful screenplay is by Dovid Maryan.
A peaceful Jewish village in Ukraine is under threat from the Petliurian Army. Symon Petliura's soldiers fought against the Red Army and the Bolsheviks. They demanded Ukrainian independence. Part of their plan was to carry out pogroms against anyone who wasn't Ukrainian enough, as can be seen in this film.
A commander kills an old woman in the village square and a small group try to retaliate but get nowhere. The evil commander then threatens a pogrom and to burn the entire village. Unless the villagers agree to give five virgin girls (five brides), for the pleasure of five Officers.
The Jewish council decides they have no choice. They sacrifice their daughters to the drunken officers. The selection scene of which of the women will be sent, is heart-wrenching.
All is not lost and a detachment of partisans of the Red Army comes to free the brides and the village. Although the last reel is missing, the film narrative retains all its power and emotion. It builds the pace to a fantastic and dramatic crescendo. And we're left with a superb cliffhanger.
Accompanied using traditional and newly composed tunes in traditional style, the Sound & Light Cinematic Duo have performed soundtracks for many Jewish silent films all over Europe, Russia, Ukraine, Canada, USA.
Payments are optional, but appreciated. You can pay by a debit or credit card or via PayPal here:
£5
£10
Five Brides – Sound & Light Cinematic Duo B&W film with live music