Iceland 5-6 October 2012
Polina visited Reykjavik on 5-7 October 2012. She worked with a choir Söngfjelagið and performed a concert on  Saturday night. 
Lilja Steingrímsdóttir, Söngfjelagið choir: I am still under your spell Polina, this was so wonderful, the music, the singing. You are a powerhouse, please come again.

Söngfjelagið choir member: Polina Shepherd á opinni æfingu með Söngfjelaginu, Raddbandafélagi Reykjavíkur, klezmerhljómsveitinni Goyisher Narrischkeit og gestum. Þvílík galdrakona sem hún Polina er – það er sko ekki annað hægt en að hlakka til morgundagsins – æfingar frá morgni til kvölds – og síðan tónleikar í Fríkirkjunni kl. 20. … Myndirnar tók Lena Lenharðsdóttir – kærar þakkir! — at Fríkirkjan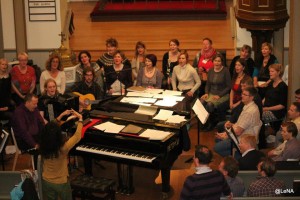 Polina Shepherd, ein skærasta stjarnan í sunginni klezmertónlist, verður heiðursgestur Klezmerveizlu sem Söngfjelagið býður til í Fríkirkjunni í Reykjavík dagana 5.-6. október. Á föstudagskvöldinu og laugardeginum verða opnar æfingar undir stjórn Polinu og Hilmars Arnar Agnarssonar, stjórnanda Söngfjelagsins. Æfingarnar eru opnar fyrir alla þá sem hafa áhuga á að vera með og eru vanir að syngja í kór. Veislunni lýkur síðan með tónleikum í Fríkirkjunni kl. 20 á laugardagskvöldinu 6. október. Þar kemur Polina Shepherd fram ásamt Söngfjelaginu, Raddbandafélagi Reykjavíkur, klezmerhljómsveitinni Goyisher Narrischkeit, sem Hjörtur Hjartarson klarinettuleikari hefur sett saman sérstaklega af þessu tilefni – og öðrum þátttakendum á opnu æfingunum.Klezmertónlistin er um margt ólík þeirri íslensku hvað varðar takt og hraða en þau hljóðfæri sem einkenna þessa tónlistarstefnu eru harmonikka, klarínett og fiðla. Ekki er algengt að þessi tónlist sé flutt af kórum eða sönghópum. Polina Shepherd hefur samið og útsett talsvert af slíkum tónverkum og er því mikill fengur að því að fá hana til landsins, en að því best er vitað hefur ekki áður verði haldið hér á landi viðlíka námskeið eða æfingar þar sem fengist er við klezmertónlist eingöngu.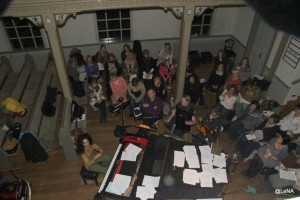 Polina er með fremstu tónlistarmönnum heims þegar kemur að flutningi og kennslu klezmertónlistar, en auk þess að syngja leikur Polina á píanó. Hún var í fyrstu klezmerhljómsveitinni eftir fall Sovétríkjanna og er talin einn besti kórstjórnandi þess heimshluta. Hún hefur spilað og sungið í ýmsum klezmerhljómsveitum, auk þess að semja tónlist fyrir sönghópa og kóra.
Á opnu æfingunum munu þau Polina og Hilmar Örn æfa með kórunum verk sem endurspegla klezmertónlistarstefnuna sem á rætur sínar að rekja til gyðinga í Austur-Evrópu. Auk tónlistaræfinga mun Polina fræða þátttakendur um sögu klezmer-tónlistarinnar og mismunandi tegundir hennar – og hvernig megi syngja hana og leika af fingrum fram. Þeir sem hafa áhuga á að taka þátt geta skráð sig á klezmerveizla@gmail.com.